Purchasing new furniture is a huge investment, and when it comes time to update your home's interior people often get stuck trying to decide whether they should replace their old furniture or have it refinished.  The short answer to this dilemma is that it really depends.  There are, however, a few important points worth considering that can help you make the right decision.
When to opt for Furniture Restoration
In today's world of mass production, furniture replacement is an extremely convenient option.  It isn't always the best way to go, though.  If you're thinking about replacing your old furniture, you really need to take a step back and look at what you're replacing.  That old dining room table or hutch might actually be a priceless antique that's secretly harboring an irreplaceable and priceless amount of character.  Furniture restoration has come a long way, and a professional technician could make your old furniture look as good as new for about half the cost of replacement.
If it's made of Wood, it's probably still Good
Furniture that's made of wood can last for a very long time, and if you've got some old wooden furniture laying around the house chances are very high that it is restorable, and it might even be antique.  Wood is incredibly resilient material, and even furniture that's scratched and faded can be made as good as new by way of professional wood furniture restoration techniques.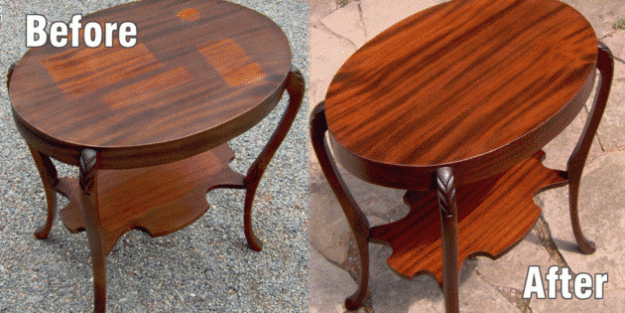 Restoring wood furniture is both an art and a science that combines sanding, staining, and sealing, as well as a little carpentry.  A professional restoration technician can identify what type of wood your furniture is made from, how old it actually is, and what methods to use to restore it to its initial quality.
If you're the type of person who likes to do things on their own, taking on a wood furniture restoration project can also be a very rewarding experience.  There are endless learning resources available online to help you identify what type of wood you're working with and to help you learn the right restoration techniques.  You'll have to be careful, though, because if you don't know what you're doing you could end up ruining your furniture and losing a precious antique.
Calculating the Cost
If you're not dealing with antiques, you certainly don't want your furniture restoration cost to exceed the cost of replacement.  To avoid this situation, do your research online and consider visiting a few local furniture stores.  You might be surprised at the deals you can find, especially on sites like Craigslist where used furniture is often given away for free.
If, on the other hand, you're trying to restore an antique piece of wooden furniture, you're playing an entirely different game, and the rules are different.  Professional furniture restoration probably won't exceed the cost of total replacement, but it can get expensive.  It's important to recognize, however, that restoration costs can actually increase the future value of your furniture, if the piece is a rare and coveted antique.  Sentimental value is always important too.
Contributor to several restoration and cleaning blogs. Google+