Your kitchen is one area of the home that gets frequent use, whether it's for cooking, dining or simply hanging out. Those kitchen cabinets get banged up in the process, too. Cabinet doors are flung open, and drawers are yanked out. Repeated use leads to wear and tear. So when your kitchen cabinetry starts to show that it's wearing out, what are your options?
Homeowners have a few choices when it comes to dealing with timeworn or damaged kitchen cabinetry: replacement or refinishing (or refacing) or a combination of the two.
Ideal Replacement Scenarios
It's ideal to replace kitchen cabinets when the cabinets are extremely rundown and old, making the naturally welcoming kitchen a place you'd rather dart out of sooner than later. If the wood in your kitchen cabinets is shabby and lacks quality, it makes perfect sense to replace them. Or, perhaps the wood in the cabinets is too damaged to refinish. This is another instance when replacing the cabinets is the right decision. New cabinets will dependably serve your needs for decades.
Plus, if your kitchen layout lacks appeal and function, you may wish to add additional cabinets here and there or just design a more efficient kitchen to suit your tastes. Perhaps your current shelving is not deep enough to hold all your saucepans, pots and baking dishes. Or, you may entertain in a kitchen that lacks enough shelving to house the 45 wine glasses or dinnerware you keep for the many parties you throw. As a homeowner, you may even desire the newer style of open shelving in your kitchen rather than housing your kitchen tools in closed cabinetry.
When you yearn for a change in your kitchen's existing layout, replacing the cabinets is fitting. You'll want to meet with a designer to discuss your vision for your kitchen.
Replacement Costs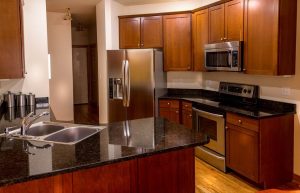 Experts say that replacing a kitchen's cabinetry can take up to fifty percent of your total kitchen renovation budget. Plus, working with a designer to formulate a plan for a new layout is an additional, hefty expense.
Kitchen cabinetry costs can vary from a few thousand dollars to tens of thousands of dollars. Homeowners can choose between stock cabinets, semi-custom cabinets and custom made cabinetry.
Stock cabinets are the least expensive, since they are pre-made in certain styles and finishes. A ten by twelve foot kitchen will require cabinetry that costs about $4,000 to $5,000 on up, and this price estimate does not include installation or countertops.
Semi-custom cabinets are slightly higher in price, because they are built subsequent to the placed order. Homeowners can choose from a variety of styles, such as glass fronts, exotic wood or stylized trim. All these distinctive features cost extra. Semi-custom cabinets can cost double that of stock cabinets. Homeowners can expect to shell out anywhere from $8,000 to $10,000 to start for a ten by twelve foot kitchen featuring semi-custom cabinets.
Custom cabinets are the highest in price, since they are uniquely designed and made to fit a certain layout. Uninstalled, custom made cabinets cost about four times that of stock cabinets. Homeowners can expect their custom cabinets to start from $16,000 to $20,000.
During the replacement process, your entire kitchen will be overtaken, with appliances and cupboards ripped out, leaving a construction mess in the wake. Plus, replacing your kitchen cabinetry will take significant time, meaning you will have to find somewhere else to store your kitchen gadgets and to find a separate area to cook and dine.
Advantages of Refinishing Cabinets
If the expenses and hassle of replacing your kitchen cabinets is too daunting, all is not lost. You can still work in a kitchen you'll enjoy by refinishing the cabinets. Homeowners have a few cost-effective choices when it comes to refacing old kitchen cabinets:
Old cabinets and drawers can be refinished or painted.
New laminate veneer or wood can be installed over the existing cabinets.
Or, homeowners who choose to reface their kitchen cabinets can do so simply by installing new cabinet doors.
New pulls and knobs are an inexpensive way to update your kitchen cabinetry, too. Even the interiors of your existing kitchen cabinets can be spruced up with rotating shelves or pull-out drawers. The wood can be sanded, painted or veneered for a contemporary look.
Refinishing existing kitchen cabinetry also saves homeowners fifty percent of the cost of replacing them. The convenience of refacing old cabinetry is abundant. You don't need to find areas to move kitchen appliances, and the kitchen remains functional throughout the entire process.
Plus, consider the quality of materials used in your current kitchen. Experts say that cabinetry built prior to the 1980s was made of better quality materials than more current ones. When you're fortunate enough to have good quality cabinets, it's much simpler to aim to refinish rather than replace.
It is also common to include both replacing and refinishing kitchen cabinetry in the project. You may decide to refinish certain elements of your kitchen cabinets while replacing others.
The hassle of a complete kitchen cabinet replacement can be avoided by choosing to refinish your cabinetry. The nicks, gouges and other surface damage in your existing kitchen cabinetry can be refinished to restore its original appeal, or, better yet, give it an entirely updated look with new finishes or colors.
When you've decided that refinishing your existing kitchen cabinetry is right for you, call on one of Galveston's most trusted names in the industry, Furniture Medic by Bob Llorente. The skilled technicians at Furniture Medic by Bob Llorente will restore damaged or worn kitchen cabinetry and give your kitchen a new gleam. The company offers custom cabinet doors and drawer fronts in a variety of contemporary styles and brilliant finishes.
The highly trained and experienced team at Furniture Medic by Bob Llorente works quickly and efficiently, restoring most kitchen cabinets within three to six days. Furniture Medic by Bob Llorente reliably services homes in the Galveston, TX community.
Contributor to several restoration and cleaning blogs. Google+